Continuing Education Approval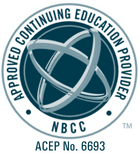 Telehealth Certification Institute, LLC has been approved by NBCC as an Approved Continuing Education Provider, ACEP No, 6693. Programs that do not qualify for NBCC credit are clearly identified. Telehealth Certification Institute, LLC is solely responsible for all aspects of the programs.

Telehealth Certification Institute LLC, #1609, is approved to offer social work continuing education by the Association of Social Work Boards (ASWB) Approved Continuing Education (ACE) program. Organizations, not individual courses, are approved as ACE providers. State and provincial regulatory boards have the final authority to determine whether an individual course may be accepted for continuing education credit. Telehealth Certification Institute LLC maintains responsibility for this course. ACE provider approval period: 05/02/2021 – 05/02/2024.

Telehealth Certification Institute LLC is approved by the American Psychological Association to sponsor continuing education for psychologists. Telehealth Certification Institute LLC maintains responsibility for this program and its content.

Telehealth Certification Institute is an approved provider of continuing education by NAADAC, the Association for Addiction Professionals, provider #193104. Full attendance is required; no partial credit will be awarded for partial attendance.

Telehealth Certification Institute LLC has been approved as a continuing education provider by the Association for Play Therapy: APT Approved Provider 21-633. Per the Association for Play Therapy (APT), play therapy training may not be awarded to non-mental health professionals. APT alone holds the right to accept or deny any continuing education training at its discretion.
Since 2014, we have delivered comprehensive Telehealth training and consultation to a global network of more than 45,000 healthcare organizations and professionals.
We offer clinicians superior continuing education products and customer support.
Get to know us and explore our extensive resources!
The effects of COVID on telehealth have led to a viable and sustainable solution to many of the challenges facing healthcare delivery in the U.S. Virtual healthcare services are now one of the fastest-growing areas in the healthcare industry. According to Centers for Medicare & Medicaid Services (CMS) reports, from March to October 2020, 68 million telehealth services were delivered, showing a 2,700% increase compared to 2019 reports.

We've invited Duane Gordon from the Attention Deficit Disorder Association (ADDA) to discuss Attention Deficit Hyperactivity Disorder (ADHD) in adults. He has worked within the ADHD community for over two decades and is the association's president. Established in 1988, ADDA currently has over 5,000 members from all over the world. Their mission is to provide education and resources for adults diagnosed with ADHD, filling the gap in need as so many services for ADHD focus on children with this diagnosis.

In the digital age, telemental health services have become increasingly prevalent, offering a convenient and effective means of therapy. As a behavioral health provider, it is crucial to consider not only the safeguarding of your clients' mental well-being but also their information security. This article explores the responsibilities of behavioral health providers in informing clients about protecting their data while using telehealth services.

We've invited Kathleen Shannon to discuss the process of pursuing multi-state licensure for licensed behavioral health professionals. With the advent of telehealth, there are more and more possibilities for practicing in various areas. Some providers may have a particular niche with a demand for services. For others, continuity of care is essential. For example, Kathleen Shannon noted that when the pandemic started and some people had to move out of state, there were issues with providers not being able to continue care because they lacked licensure in the particular state. Ms. Shannon notes that complications arise as different states have varying regulations and requirements for licensure.

I have been a substance use counselor for nearly 17 years. When I started, a patient who used opioids or heroin was uncommon; now, if a patient has not used opioids or has never overdosed, we are mildly surprised. When suboxone (buprenorphine) arrived on the scene, we all thought our opioid crisis was over; little did we know. I was talking to one of my coworkers, who is friends with one of the local EMTs; she stated that our town has 6-10 overdoses daily. The population of our town is only around 100,000 people.

Dr. Jonathan Neufeld, the Program Director of the Great Plains Telehealth Resource and Assistance Center (gpTRAC) has spent the last 15 years steering healthcare organizations toward telehealth solutions. When he began his work in the field, few people were talking about telehealth technology; but once COVID-19 entered the picture, healthcare organizations realized that this underutilized treatment option became a necessity for patients and providers. In this video interview, Dr. Neufeld identifies factors that organizations should consider when integrating telehealth technology into their practices, current technology constraints for treating patients, and a glimpse of the technological future that could be awaiting us.