Telehealth Certification Institute is proud to partner with the Louisiana Counseling Association for the LCA's 2022 Conference and offers an exclusive opportunity for members of LCA to complete 4 of the 8 courses required for the Animal Assisted Therapy Interventionist (AAT-I) Credential.
Earn your AAT-I Credential
Dr. Christina Strayer,
Lead Instructor
Ed.D, LCMHCS, AAT-I, CCTP, THTC, CYT-200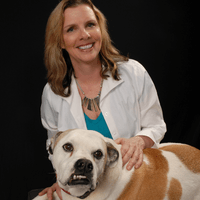 Dr. Christina Strayer, Ed.D, LCMHCS, LCAS-A, AAT-I, CCTP, THTC, CYT-200 is a Licensed Clinical Mental Health Counselor and Supervisor, Licensed Clinical Addictions Specialist-Associate, Pet Partner Team Evaluator, Animal Assisted Therapist-Interventionist and Life Coach with her coaching practice E.E.C.H.O. (Education and Energy Coaching with Horses and Others, LLC) in North Carolina. Her private practice is Animal Assisted Therapy of the Triangle. She is trained in a variety of Integrative Therapies including Art, Yoga and Mindfulness. Her theoretical approach is Client-centered and Holistic. Along with her mini goats, avian, equine, canine and crustacean helpers, Christina combines her study of the power of the Human and Animal Bond in healing with proven counseling theories and techniques to guide clients in reaching their goals.
She has a diverse background in counseling and teaching. She is the Lead Instructor for the Animal Assisted Therapy Interventionist (AAT-I) certification course. She has served as an adjunct professor at Campbell University in the Counselor Education department. She has traveled and conducted AAT seminars for PESI, a national continuing education organization and conducts Seminars/Workshops/Groups locally on a variety of Mental Health/Wellness topics. She primarily works in the areas of PTSD, Panic Disorder, Crisis Intervention, Compassion Fatigue, Stress, Trauma, Grief and Loss, Anxiety, Addictions, Depression, Goal setting, Consultation, Self-Esteem, Conflict resolution, Social Skills, Team Building and Life Balance/Transitions.
Christina graduated from the Doctoral program in Counselor Education and Supervision through Argosy University in Sarasota, FL. She obtained both a Master of Science in Counseling and Human Development with a concentration in K-12 School Counseling and a Bachelor of Science Degree in Psychology from Radford University in Radford, Virginia. She completed her Doctoral dissertation in AAT with Dooli, a rescue English Bulldog/Boxer mix, who was a dear family member and a beloved therapy dog to many over the years.