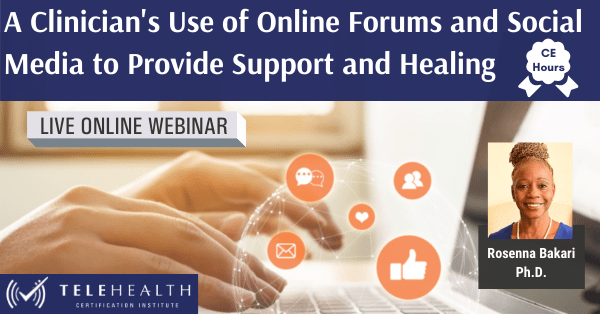 A Clinician's Use of Online Forums and Social Media to Provide Support and Healing
Join us for a Live Webinar on September 3, 2021 from 1-2:30 pm EST
1.5 CE Credits available for behavioral health clinicians
This course addresses the current trend of help-seeking and the clinician's potential role.  You will see the value of accommodating clients' online social media interests. Even if you are not interested in offering services, you will understand how to have relevant discussions about this trend with clients. For example, you will learn how your clients' engagement with informal online resources may help or hurt their counseling relationship.
This course will cover:
How and why to get started with a social media wellness platform.
Ethical issues and guidelines of the social media platforms for wellness.
Building a brand,  building a practice, or living your purpose - Know your priority. 
Describe the relevant statistics about the current trend of help-seeking through social media.

Explain three major features to consider in building a social media platform to support wellness.
1.5 CE credits for the live webinar event. Full attendance is required to receive credit.

Counselors: Telehealth Certification Institute, LLC has been approved by NBCC as an Approved Continuing Education Provider, ACEP No, 6693. Programs that do not qualify for NBCC credit are clearly identified. Telehealth Certification Institute, LLC is solely responsible for all aspects of the programs.
Telehealth Certification Institute, LLC is recognized by the New York State Education Department's State Board for Mental Health Practitioners as an approved provider of continuing education for licensed mental health counselors. #MHC-0048. Approval renewal date: 1/31/2023 
Marriage and Family Therapists: Many MFT licensing boards accept our courses or one of the approvals which we have from professional associations. You can check with your board to determine if this course would be accepted by your licensing board.
Social Workers: Telehealth Certification Institute, LLC, #1609, is approved as a provider for social work continuing education by the Association of Social Work Boards (ASWB) www.aswb.org, through the Approved Continuing Education (ACE) program. Telehealth Certification Institute, LLC maintains responsibility for the program. ASWB Approval Period: 05/02/2021 – 05/02/2024. Social workers should contact their regulatory board to determine course approval for continuing education credits. Social workers participating in the webinar will receive 1.5 clinical continuing education clock hours.
Telehealth Certification Institute, LLC is recognized by the New York State Education Department's State Board for Social Work as an approved provider of continuing education for licensed social workers #SW-0435. Approval renewal date: 2/28/2023

Psychologists: Telehealth Certification Institute LLC is approved by the American Psychological Association to sponsor continuing education for psychologists. Telehealth Certification Institute LLC maintains responsibility for this program and its content.
Other Professionals: This course qualifies for 90 minutes of instructional content as required by many national, state and local licensing boards and professional organizations.  Retain your certificate of completion and contact your board or organization for specific filing requirements.
Register for the webinar by midnight before the event. So that we can provide you these CEs, you are required to:
login and access the direct link to the webinar through your account
participate fully during the event
complete a course evaluation at the conclusion of the event
collect your certificate of completion on your account after steps 1-3 are completed
Enroll in a course by adding it to the cart and proceeding through the check out process. Create an account (or login to yours) during the checkout process.
Prepare: Download Zoom software. Participants must use a device that is connected to adequate internet speed with a camera, microphone and speakers (or headset).
Attend: Before or at 12:45 pm EST on the day of the event, login to your account on the website. Go to "My Courses", click on the title/date of the webinar. The link to join the meeting/webinar will be listed in the course content.
Attendance is automatically recorded when you use the link to join.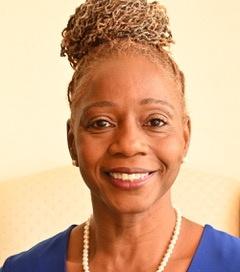 Dr. Rosenna Bakari, a Philadelphia native, is an empowerment expert psychologist. Her professional background varies from working as a drug recovery counselor to training preservice teachers and counselors. In 2010, she founded Talking Trees, Inc., the only international organization that focuses exclusively on empowering adults who experienced sexual abuse before the age of 18. She developed the Living Openly Model of Advocacy and Support based on her work with survivors worldwide. In a world that requires survivors' silence, the model supports survivors who choose to heal by living openly. 
One of Dr. Bakari's goals is to support the shift of psychology from a focus on mental illness to mental wellness and break down barriers to wellness resources. As an empowerment coach, she works with clients worldwide using online one-on-one and group platforms to support life changes, help resolve trauma, and reset healthy life narratives. She bases her practice on her 8-week empowerment curriculum that restructures power in the help-seeking relationship.
Dr. Bakari graduated from Cornell University in 1984 and went on to earn her Master's degree from SUNY at the age of 22. She later earned her Ph.D. in psychology from the University of Northern Colorado. Her most recent professional presentation was for the 2021 American Counseling Association Conference, where she presented on Online Advocacy.
In addition to her professional endeavors, she promotes mental wellness through transformational poetry. This year, she also published her sixth book related to empowerment. Her latest book, The Healing Journey: Relationships Health and Wellness, is a radical new book on healing intended to meet people where they are on their healing journey with such topics as "How to heal childhood trauma without forgiving the person who caused it."