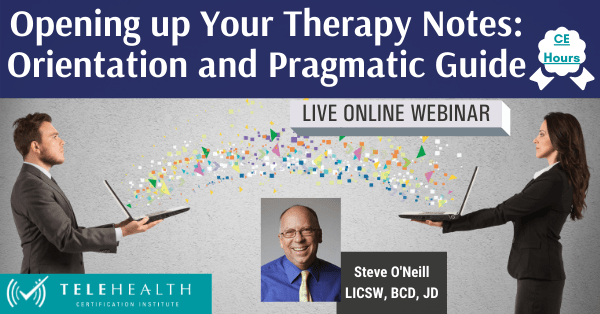 Join us July 30, 2021 from 1pm-2:30 pm (EST) for a FREE Live Webinar
Given the Cures Act's requirements to include patient access to electronically based 'notes', Steve will focus on what has been learned from the experiences of practices who have opened up therapy notes directly to patients and provide some pragmatic ways to approach these systemic changes. Steve will address the understandable concerns which clinicians have about opening up mental health notes directly to patients and provide tips in dealing with many of these situations.
This course covers:
What has been the experience of mental health clinicians who have opened up their psychotherapy to patients?

Are there times when a clinician can "block" a therapy note from a patient?

How do I document my note in a manner whereby it extends the therapy session?
CE hours available for behavioral health clinicians.
Registration ends at midnight the day before a free webinar event.

Enrollment in a live webinar does not provide access to the recording or enrollment in the online self-study course.
FAQs About our Free Webinars
Pre-Registration is required: This webinar is FREE, and we are pleased to be able to offer you CEs as a part of this important topic. So that you can attend and we can provide you these CEs, you are required to:
Pre-register by midnight the day before the webinar begins
Login and access the direct link to the webinar through your account (we do not send direct links to join)
Your attendance is recorded automatically by accessing the direct link
Complete a course evaluation within one week of the conclusion of the webinar
Collect your certificate of completion on your account after steps 1-4 are completed
Enroll in the webinar by adding it to the cart and proceeding through the check out process (for $0). Create an account (or login to yours) during the checkout process.
Prepare: Download Zoom software. Participants must use a device that is connected to adequate internet speed with a camera, a microphone and speakers (or headset).
Attend: Before or at 12:45 pm EST on the day of the event, login to your account on the website. Go to "My Courses", click on the title of the webinar. The link for the webinar will be listed in the course content.
Attendance is when participants access the link through their own account, attend fully, and the evaluation is completed within one week in order to receive CE credits.
Live Webinar on 7/2/21:
1.5 CE credits for Counselors, MFTs, Social Workers and Psychologists

Counselors: Telehealth Certification Institute, LLC has been approved by NBCC as an Approved Continuing Education Provider, ACEP No, 6693. Programs that do not qualify for NBCC credit are clearly identified. Telehealth Certification Institute, LLC is solely responsible for all aspects of the programs. This course qualifies for 1.5 contact hours.
Telehealth Certification Institute, LLC is recognized by the New York State Education Department's State Board for Mental Health Practitioners as an approved provider of continuing education for licensed mental health counselors. #MHC-0048. Approval renewal date: 1/31/2023 
Marriage and Family Therapists: Many MFT licensing boards accept our courses or one of the approvals which we have from professional associations. You can check with your board to determine if this course would be accepted by your licensing board.
Social Workers: Telehealth Certification Institute, LLC, #1609, is approved as a provider for social work continuing education by the Association of Social Work Boards (ASWB) www.aswb.org, through the Approved Continuing Education (ACE) program. Telehealth Certification Institute, LLC maintains responsibility for the program. ASWB Approval Period: 05/02/2021 – 05/02/2024. Social workers should contact their regulatory board to determine course approval for continuing education credits. Social workers participating in this course will receive 1.5 clinical continuing education clock hours.
Telehealth Certification Institute, LLC is recognized by the New York State Education Department's State Board for Social Work as an approved provider of continuing education for licensed social workers #SW-0435. Approval renewal date: 2/28/2023

Psychologists: Telehealth Certification Institute LLC is approved by the American Psychological Association to sponsor continuing education for psychologists. Telehealth Certification Institute LLC maintains responsibility for this program and its content.

Other Professionals: This activity qualifies for 90 minutes of instructional content as required by many national, state and local licensing boards and professional organizations. Retain your certificate of completion and contact your board or organization for specific filing requirements.
Save the date for our next events - more details and registration can be found here.
June 8, 2021: It's All Focused: LEGO®-Based Play Therapy Techniques 
June 10, 2021: Introspective Brick Building: LEGO-Based Play Therapy Techniques
June 15, 2021: Implementing LEGO-Based Play Therapy Online Using Storytelling & Metaphors
August 13, 2021: School Professionals Appreciation Expo
August 20, 2021: Play Therapy for School-Related Anxiety, School Phobia, and School Refusal
September 17, 2021: Social Work Appreciation Expo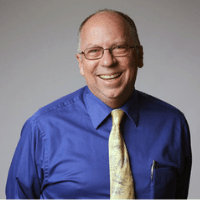 Steve O'Neill
LICSW, BCD, JD
Adjunct Professor - Simmons University School of Social Work
Chair os NASW's Massachusetts Chapter's Committee on Ethics and Professional Review
STEVE O'NEILL LICSW, BCD, JD,  was the Social Work Manager for Psychiatry, Primary Care, Pain Management, and Infectious Disease as well as the Associate Director of the Ethics Programs at Beth Israel Deaconess Medical Center where he has worked for 40 years.  He completed a Fellowship in Bioethics at Harvard Medical School, is a Clinical Instructor in the Department of Social Medicine and on the Teaching Faculty within the Center for Bioethics at Harvard Medical School.  Steve is also an Adjunct Professor at Simmons University School of Social Work.  He chairs the National Association of Social Work's Massachusetts Chapter's Committee on Ethics and Professional Review, the adjudicatory arm of NASW, and was also a member of the National Ethics Committee of NASW.   He helped with the drafts of the NASW Code of Ethics and was an author of the NASW Professional Standards.  He has extensive teaching experience, numerous committee assignments and is active on HMS's Clinical Ethics and Organizational Ethics Consortiums as well as HMS's Ethics Leadership Group.  Steve was involved with the Preventable Harm to Respect and Dignity initiative within health care at BIDMC as well as a member of BIDMC's Emergency Management Team.  And as a member of the HMS Task Force on Disaster Preparedness, Steve was one of the authors of the Ethical Aspects of Emergency Preparedness which Massachusetts adopted during the COVID-19 pandemic.  He is the author/co-author of a number of articles, chapters, and a book entitled  Legal Issues in Social Work (2004).

Steve is an expert in Behavioral/Mental Health for the OpenNotes Program and started the first-ever program in making behavioral health therapist notes directly available to patients through their personal computers in 2014.   Steve also helped to create an interprofessional training program at HMS led by medical/nursing/pharmacy/nutrition and social work interns in providing direct outpatient primary care to complex care patients.  Steve is especially interested in how transparency can foster greater trust, as well as improved care, with all health care providers, especially including behavioral health.  
While Steve retired from his primary roles at BIDMC, he continues to work in the OpenNotes Program, teaches at both HMS and Simmons, and is a consultant for Massachusetts Medical Benevolent Society.  
Outside of work, Steve enjoys time with his family and friends.  He loves fishing, hiking, animal tracking, birding and following the Red Sox and other professional sports.