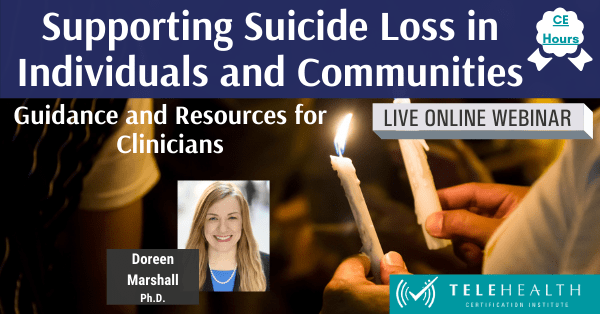 Join us June 14, 2021 from 6pm-7:30 pm (EST) for a FREE Live Webinar

A death by suicide can have a lasting effect on individuals and communities.  The professional response to a suicide death, often referred to as postvention, is often led by mental health professionals who may be simultaneously impacted by the loss.  This presentation will focus on the experience of suicide grief and its impact on individuals, impact and communities, explain what we know about suicide risk in suicide loss survivors and share resources for clinicians to help support suicide loss survivors as well as to guide postvention efforts.
CE hours available for behavioral health clinicians.
Registration ends at midnight the day before a free webinar event.

Enrollment in a live webinar does not provide access to the recording or enrollment in the online self-study course.
FAQs About our Free Webinars
Pre-Registration is required: This webinar is FREE, and we are pleased to be able to offer you CEs as a part of this important topic. So that you can attend and we can provide you these CEs, you are required to:
Pre-register by midnight the day before the webinar begins
Login and access the direct link to the webinar through your account (we do not send direct links to join)
Your attendance is recorded automatically by accessing the direct link
Complete a course evaluation within one week of the conclusion of the webinar
Collect your certificate of completion on your account after steps 1-4 are completed
Enroll in the webinar by adding it to the cart and proceeding through the check out process (for $0). Create an account (or login to yours) during the checkout process.
Prepare: Download Zoom software. Participants must use a device that is connected to adequate internet speed with a camera, a microphone and speakers (or headset).
Attend: Before or at 5:45 pm EST on the day of the event, login to your account on the website. Go to "My Courses", click on the title of the webinar. The link for the webinar will be listed in the course content.
Attendance is when participants access the link through their own account, attend fully, and the evaluation is completed within one week in order to receive CE credits.
Live Webinar on 6/14/21:
1.5 CE credits for Counselors, MFTs, Social Workers and Psychologists

Counselors: Telehealth Certification Institute, LLC has been approved by NBCC as an Approved Continuing Education Provider, ACEP No, 6693. Programs that do not qualify for NBCC credit are clearly identified. Telehealth Certification Institute, LLC is solely responsible for all aspects of the programs. This course qualifies for 1.5 contact hours.
Telehealth Certification Institute, LLC is recognized by the New York State Education Department's State Board for Mental Health Practitioners as an approved provider of continuing education for licensed mental health counselors. #MHC-0048. Approval renewal date: 1/31/2023 
Marriage and Family Therapists: Many MFT licensing boards accept our courses or one of the approvals which we have from professional associations. You can check with your board to determine if this course would be accepted by your licensing board.
Social Workers: Telehealth Certification Institute, LLC, #1609, is approved as a provider for social work continuing education by the Association of Social Work Boards (ASWB) www.aswb.org, through the Approved Continuing Education (ACE) program. Telehealth Certification Institute, LLC maintains responsibility for the program. ASWB Approval Period: 05/02/2021 – 05/02/2024. Social workers should contact their regulatory board to determine course approval for continuing education credits. Social workers participating in this course will receive 1.5 clinical continuing education clock hours.
Telehealth Certification Institute, LLC is recognized by the New York State Education Department's State Board for Social Work as an approved provider of continuing education for licensed social workers #SW-0435. Approval renewal date: 2/28/2023

Psychologists: Telehealth Certification Institute LLC is approved by the American Psychological Association to sponsor continuing education for psychologists. Telehealth Certification Institute LLC maintains responsibility for this program and its content.

Other Professionals: This activity qualifies for 90 minutes of instructional content as required by many national, state and local licensing boards and professional organizations. Retain your certificate of completion and contact your board or organization for specific filing requirements.
Save the date for our next events - more details and registration can be found here.
May 7, 2021: Integrating the Art of Writing into Your Clinical Practice
June 8, 2021: It's All Focused: LEGO®-Based Play Therapy Techniques 
June 10, 2021: Introspective Brick Building: LEGO-Based Play Therapy Techniques
June 15, 2021: Implementing LEGO-Based Play Therapy Online Using Storytelling & Metaphors
August 6, 2021: Education Event - details TBA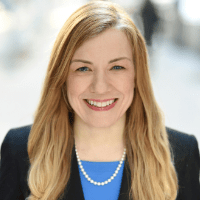 Dr. Doreen Marshall
AFSP, Vice President of Mission Engagement
Dr. Doreen Marshall, Ph.D., is the American Foundation for Suicide Prevention (AFSP) Vice President of Mission Engagement. As a psychologist with experience that spans clinical, educational, and professional settings, Dr. Marshall has been engaged in local and national suicide prevention work for nearly 20 years. Since joining AFSP in 2014, Dr. Marshall has expanded AFSP's menu of education programs for both clinicians and general audiences and revamped the infrastructure to improve program delivery through a nationwide network of chapters. In her current role, Dr. Marshall fosters partnerships and collaborations with other organizations to advance AFSP's mission to save lives and bring hope to those affected by suicide. Prior to joining AFSP, she served in a number of roles, including as a consultant for both national and state suicide prevention and postvention initiatives, which included providing suicide prevention training for the Division of Behavioral Health and Developmental Disabilities and serving on a task force of the National Action Alliance for Suicide Prevention.
Thanks to American Foundation for Suicide Prevention for their support with this course.
Launched in October 2015, Project 2025 is a high-impact, collaborative initiative developed by AFSP, aimed at the organization's bold goal of reducing the annual suicide rate 20 percent by 2025. Using a dynamic systems model approach based on what the evidence tells us about suicide, AFSP has determined a series of actions and critical areas to help us reach our goal. With this approach we reach across all demographic and sociological groups to have the greatest impact for suicide prevention and the potential to save thousands of lives within the next 10 years.
Suicide has been a major public health issue for some time. AFSP launched Project 2025 to lead a plan of action aimed at the organization's bold goal of reducing the annual suicide rate 20 percent by 2025.
Project 2025 ensures that AFSP can determine where best to reduce suicide through the most promising programs and interventions.
We know that we can't do Project 2025 alone. And, reducing the rate of suicide 20 percent will require an all-out effort from leaders across all industry sectors and communities nationwide to implement the most effective programs, policies and interventions that will save the most lives in the shortest amount of time.
From research in the suicide prevention field, we know that actions can be taken to reduce a person's risk for suicide. Effective actions can be delivered before (days, weeks, and months) a crisis arises, so that the potential for suicide may never arise or is mitigated – and a life saved. (See Firearms and Suicide Prevention area below as example.)
From the model built for Project 2025, AFSP shares examples of how many lives could be saved at a national level if we scaled up and made strategic investments, and applied the collective resources necessary to support these prevention areas over the next 10 years.