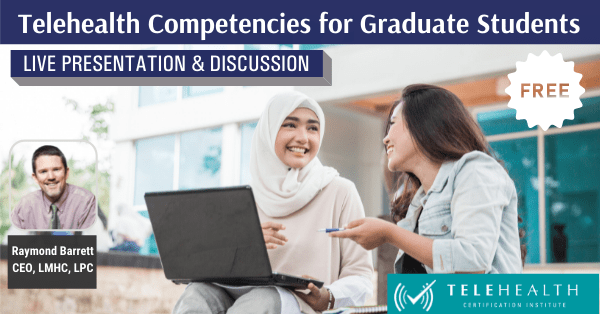 Join us September 2, 2021 from 2:00 pm-3:00 pm (EST) for a FREE Live Presentation and Discussion
Are you a little unsure of exactly which telehealth competencies are the most critical for your graduate students to learn and to help them succeed as therapists? Or perhaps you've already added telehealth training to your curriculum, but you're wondering if you've covered all the bases with a sustainable, cost-effective long-term education solution.
This one-hour live meeting will include a presentation of the competencies recommended by the telehealth community, followed by an interactive Q&A session to discuss how college and university programs are meeting the need for telehealth training and the challenges they face. Questions and comments from participants are welcome and encouraged.

Facilitating the conversation will be Ray Barrett, CEO and founder of the Telehealth Certification Institute, who is himself a licensed and practicing mental health counselor, and one of the nation's leading experts on telemental health training.

This free one hour virtual meeting does not offer CEs, just great content.
Registration ends at midnight the day before a free webinar event.
FAQs About our Free Webinars
Pre-Registration is required: This webinar is FREE and does not include CEs. To attend, you are required to:
Pre-register by midnight the day before the webinar begins
Login and access the direct link to the webinar through your account (we do not send direct links to join)
Enroll in the webinar by adding it to the cart and proceeding through the check out process (for $0). Create an account (or login to yours) during the checkout process.
Prepare: Download Zoom software. Participants must use a device that is connected to adequate internet speed with a camera, a microphone and speakers (or headset).
Attend: Before or at 12:45 pm EST on the day of the event, login to your account on the website. Go to "My Courses", click on the title of the webinar. The link for the webinar will be listed in the course content.
How do I Attend the Webinar?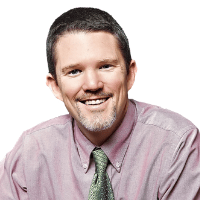 Raymond Barrett
CEO,LMHC, LPC
Founder, Telehealth Certification Institute
Raymond Barrett, CEO, LMHC, LPC, is a licensed professional counselor and an expert telemental health consultant/founder of the Telehealth Certification Institute (TCI). A master trainer, Ray has released over 50 high-quality courses for thousands of clinicians and healthcare providers and trained 1,919+ organizations in telehealth.
When Ray's first clients began asking for sessions over the phone, Ray quickly discovered a knowledge gap in telehealth training. Ray's inspiration for TCI came from his desire for comprehensive and practical training in telemental health for both himself and fellow clinicians. Ray's extensive review of telehealth research and literature, along with his virtual counseling, executive coaching, psychiatric assessment, and employee assistance program experience, contributed to his course design.
In a profession known for regulatory pressures, Ray emphasizes ethical telehealth delivery across the board. He continues to see a limited number of private practice clients and rigorously reviews telehealth developments to ensure his courses are up to date and meet industry-best standards.
Ray is committed to cultivating a compassionate, person-centered organization that supports clinicians, patients, and the greater healthcare community.