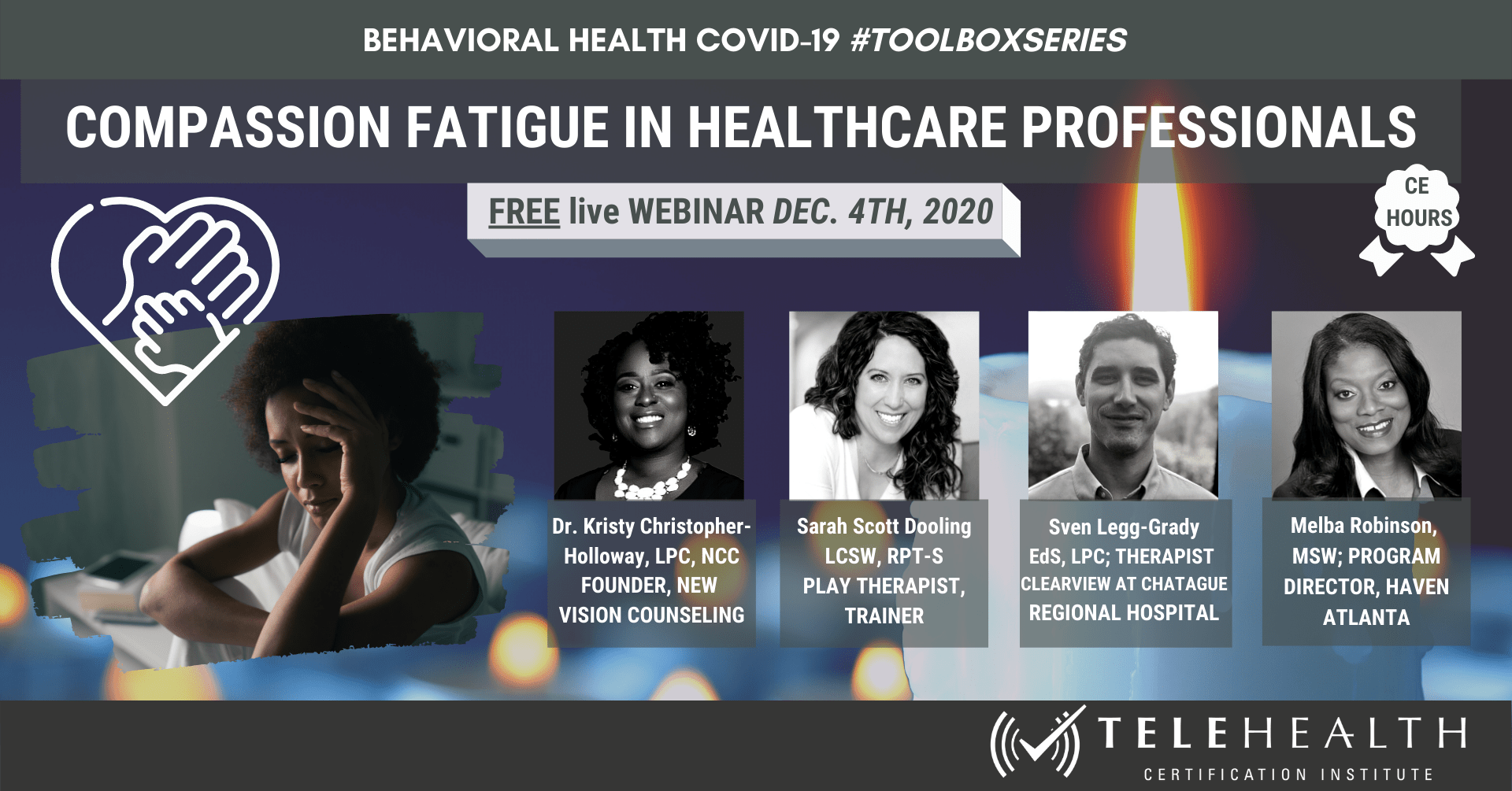 2020 has posed unique challenges for clinicians and clients alike.  Join the Telehealth Certification Institute for a free, virtual panel discussion featuring leading mental health experts on, "Identifying and Treating Compassion Fatigue in Healthcare Professionals." Participants will learn how current and past stressors contribute to countertransference, compassion fatigue, and burnout. Participants will evaluate their existing self-care routines and discover new, creative approaches.

The live webinar took place December 4th, 2020. The recording of the event is now available as an online self-study course and offers  1 CE credit for behavioral healthcare practitioners.
FAQs About our Free Webinars
Register: This webinar is FREE, and we are pleased to be able to offer you CEs as a part of this important dialogue. So that you can attend and we can provide you these CEs, you are required to:
Pre-register
Login and access the direct link to the webinar through your account
Participate and mark your attendance during the day of the webinar
Complete a course evaluation within one week of the conclusion of the webinar
Collect your certificate of completion on your account after steps 1-4 are completed
Enroll in the webinar by adding it to the cart and proceeding through the check out process (for $0). Create an account (or login to yours) during the checkout process.
Prepare: Download Zoom software. Participants must use a device that is connected to adequate internet speed with a camera, a microphone and speakers (or headset).
Attend: Before or at 12:45 pm EST on the day of the event, login to your account on the website. Go to "My Courses", click on the title of the webinar. The link for the webinar will be listed in the course content.
Attendance must be recorded by participants on their account before midnight EST the day of the event, and evaluation completed within one week in order to receive CE credits.
1.5 CE credits for behavioral health clinicians
Counselors: Telehealth Certification Institute, LLC has been approved by NBCC as an Approved Continuing Education Provider, ACEP No, 6693. Programs that do not qualify for NBCC credit are clearly identified. Telehealth Certification Institute, LLC is solely responsible for all aspects of the programs. This course qualifies for 1.5 contact hours.
Telehealth Certification Institute, LLC is recognized by the New York State Education Department's State Board for Mental Health Practitioners as an approved provider of continuing education for licensed mental health counselors. #MHC-0048. Approval renewal date: 1/31/2023 
Marriage and Family Therapists: Many MFT licensing boards accept our courses or one of the approvals which we have from professional associations. You can check with your board to determine if this course would be accepted by your licensing board.
Social Workers: Telehealth Certification Institute, LLC, #1609, is approved as a provider for social work continuing education by the Association of Social Work Boards (ASWB) www.aswb.org, through the Approved Continuing Education (ACE) program. Telehealth Certification Institute, LLC maintains responsibility for the program. ASWB Approval Period: 05/02/2018 – 05/02/2021. Social workers should contact their regulatory board to determine course approval for continuing education credits. Social workers participating in this course will receive 1.5 clinical continuing education clock hours.
Telehealth Certification Institute, LLC is recognized by the New York State Education Department's State Board for Social Work as an approved provider of continuing education for licensed social workers #SW-0435. Approval renewal date: 2/28/2023

Psychologists: Telehealth Certification Institute LLC is approved by the American Psychological Association to sponsor continuing education for psychologists. Telehealth Certification Institute LLC maintains responsibility for this program and its content.

Other Professionals: This activity qualifies for 90 minutes of instructional content as required by many national, state and local licensing boards and professional organizations.  Retain your certificate of completion and contact your board or organization for specific filing requirements.
Save the date for our next events - more details and registration coming soon.
February 5, 2021: VIRTUAL COMPETENCE FOR SOCIAL WORKERS, Covid-19 Behavioral Health Toolbox - Technology Assisted Social Work Practice Guidelines
March 22-24, 2021: TELEMENTAL HEALTH PREPAREDNESS SUMMIT: Telemental Health Tailored to Your Practice, Emerging Trends in Behavioral Health
Sarah Dooling, MSW, LCSW, RPT-S
Licensed Clinical Social Worker

Sarah Scott Dooling is a Licensed Clinical Social Worker and a Registered Play Therapist - Supervisor specializing in play therapy. Sarah teaches graduate-level classes at two San Diego universities, and facilitates creative, interactive professional development workshops for clinicians and educators. She is employed at Escondido Union School District and also works in private practice.
About Sarah Scott Dooling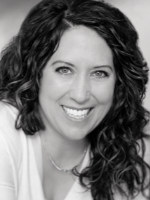 Details about Sarah Scott Dooling
Dr. Kristy Christopher-Holloway, EdD, LPC, NCC, BC-TMH, ACS, PMH-C
Assistant Professor and Psychotherapist

Dr. Kristy Christopher-Holloway is an Assistant Professor at Lindsey Wilson College in the School of Professional Counseling, the founder and director of New Vision Counseling Center, LLC, and founder of New Vision Consulting and Training, LLC, both located in Georgia. She is a Licensed Professional Counselor, a National Certified Counselor, a Board Certified Tele-mental Health Provider, a counselor supervisor, and certified in Perinatal Mental Health. She works with racial and ethnic minority women experiencing infertility trauma, birth trauma, reproductive loss, and issues related to maternal mental health.
Dr. Christopher-Holloway is a national and international speaker with a focus on topics such as African Americans and mental health, the psycho-emotional impact of infertility in African American women, perinatal mood disorders, the strong Black woman syndrome, generational trauma, cultural competence/humility, and more. She has received numerous honors, including the Breakthrough Award for Outstanding Research awarded by the National Board of Certified Counselors, in recognition of her work related to mental health and infertility.

Dr. Christopher-Holloway's resume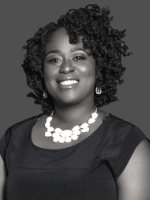 Details about Dr. Kristy Christopher-Holloway
Sven Legg, LPC
Mental Health Counselor

Sven has provided therapy for individuals, couples, and families since 2014 after graduating from the University of Florida. He lives in the NE GA mountains with his wife, Meredith, and their dog Simba.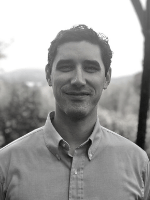 Details about Sven Legg
Melba Robinson, MSW

Melba Robinson has a vast knowledge encompassing the field of commercial sexual exploitation and human trafficking. She has an extensive history of working for and collaborating with CSE victims throughout Georgia and various other states.  As a social worker, Melba's expertise is in working with children and families, case management, and program & curriculum development.  Melba joined HavenATL with the Salvation Army as a Case Manager then transitioned to Program Director, where she overseers the development of the program, connects with partnering agencies to offer more resources for the women, and provides advocacy, and linkages for the girls and women who have survived commercial sexual exploitation.  Her vision for the girls and young women is to provide a safe environment for them where they can be empowered and begin to work on their journey of wholeness.

Melba Robinson's biography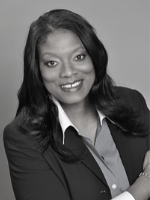 Details about Melba Robinson